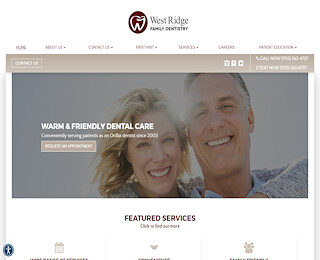 There' a well-respected denturist in Orillia at West Ridge Family Dentistry who can help you determine the best course of action when replacing missing teeth. If you've been comparing the advantages of dentures and implants but need additional information before you can make the right decision, we invite you to schedule a consultation with our on-site denturist to find out more. We offer in-house repairs & relines, All-On-4 Implants, partial & complete dentures, and removable oral devices.
Replacing Missing Teeth is a Personal Matter
If you've experienced tooth loss, you have many options available to you for restoring the appearance and function of your smile. Our denturist can help you look at the costs involved with each type of treatment while we determine your candidacy for each dental prosthetic. The reason there are so many different options is that no one treatment is right for every patient. Let's schedule a new patient appointment to help you find the one that's best for you.
The Benefits of Working With a Denturist in Orillia
Rather than send our patients out-of-office to a third party denture specialist, we've chosen to employ a denturist who can design and fabricate dentures and implants on-site, saving patients time and money. Working closely with a denture specialist means greater peace of mind throughout the entire process. You'll see the best results when you meet with our denturist for beautiful dentures or implants.
We Create New Smiles
Your comfort is of utmost importance, which is why the process of creating your impressions and manufacturing your dental prosthetics requires an expert who brings a lot of experience to the table. As we place your dentures or implants, our goal is to ensure they look, feel, and function like natural teeth. If you're currently weighing your options for replacing one or more missing teeth, we invite you to our practice to speak with the most reputable denturist in Orillia at West Ridge Family Dentistry.
New Technology Dentures
Not sure which procedure is right for you? All-On-4 Implants combine the best features of dentures and implants; the result- implant stabilized dentures that won't slip or become dislodged when eating or laughing. Removable implant dentures are more affordable than conventional implants and provide patients with many clear advantages over dentures. If you'd like additional information on any of the dental prosthetic procedures we offer at West Ridge Family Dentistry, set up a meeting with our denturist by calling our new patient number.
Affordable Dentures
Implant technology is not for every patient- which is why we are pleased to offer traditional partial and complete dentures designed to fit your budget better. Dentures remain one of the most popular ways to improve the appearance of your smile if you have one or more missing teeth. Dentures restore lost confidence and significantly enhance the ability to chew, smile, laugh, and enjoy a more active social life. Find out more when you come in for your consultation appointment at West Ridge Family Dentistry.
Denturist Orillia
West Ridge Family Dentistry
7053291600
3230 Monarch Dr 3, Orillia, ON L3V 8A2
View Larger Map