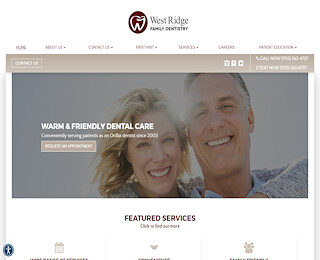 Do you need to see an emergency dentist in Orillia? Don't hesitate to call our staff at West Ridge Family Dentistry for an emergency appointment- or walk in to our office knowing we will warmly welcome you to our practice. We know that urgent dental matters require immediate visits with our staff to manage pain and prevent more extensive dental work at a later time.
Is It Really an Emergency?
If you have to ask whether your situation is really an emergency, the answer is probably 'yes'. Don't take chances if you're experiencing a toothache, have suffered a sports injury, or notice a loose or missing dental restoration. We don't consider your emergency visit an inconvenience to our day at West Ridge Family Dentistry; rather, we welcome your unscheduled visit as a chance to get to know you better and help you set up a treatment plan that will prevent a future occurrence like the one you're experiencing now.
Examples of Dental Emergencies
An urgent dental situation is not always obvious, which is why it's a good idea to reach out to our staff by phone if you think you need to see our emergency dentist in Orillia. We can offer over-the-phone tips for managing pain and to make time in our schedule for your visit. Some common reasons we see emergency patients:
A toothache that has not responded to over-the-counter medications
A knocked out tooth
A severely cracked or chipped tooth resulting in jagged edges
A soft tissue injury
A broken tooth from a sports accident or auto accident
Abscessed or bleeding gums
Lost or loose dental restorations
Discomfort following dental work
Any other situation you think requires out attention
Better Safe Than Sorry
Always err on the side of caution when dealing with any dental issue, especially one with accompanying pain or discomfort. If you've recently had a tooth filled and no longer have a natural-feeling bite, you should see our dentist if you can't find a comfortable, relaxed position for your upper teeth- a dental emergency is not always about pain. We assess crises on a case-by-case basis to ensure you receive treatment if it's necessary.
Sedation Dentistry
We speak with many patients who are fearful or anxious about visiting the dentist, which almost always results in the patient requiring restorative dental work to repair teeth and fill decay. It's no longer necessary to feel anxiety where dental work is concerned- we employ painless dental practices and offer sedation to our patients to keep you comfortable and relaxed during treatment. Don't let your fear prevent you from seeing our emergency dentist in Orillia, especially if you're in pain or genuinely need to see our staff.
If you're experiencing a toothache accompanied by an abscess, we can prescribe antibiotics and medication to deal with the infection and pain, then schedule an appointment to take x-rays and find out what's going on. Give us a call if you need immediate dental care- or walk in whenever our doors are open for business.
Emergency Dentist Orillia
West Ridge Family Dentistry
7053291600
3230 Monarch Dr 3, Orillia, ON L3V 8A2
View Larger Map